PE Activities
The school is provided with money each year to improve the provision for the children within Sports, keeping active and Physical Literacy.
This money allows us to provide additional PE and healthy lifestyle activities for the children, new resources, training for staff and funding for access to competitive sports.
Please click here for information about all the PE Activities that have taken place in 2016 - 2017.
Please click here to access the PE funding provision for 2017 - 2018 and 2016 - 2017.
In 2017 - 2018 we have used it for funding additional coaching, across the school, in Dance, Tag Rugby, Cricket and Nordic Walking sessions. The Nordic Walking has been very successful and a competition was set up with Oaksey and Luckington Primary Schools.
The school also has Up and Under Coaching to help support staff in curriculum lessons and they run a range of activities during the year, which involve lacrosse, hockey, gymnastic and multi sports skills.
In 2018 - 2019 we plan to evaluate the effectiveness of these additional physical activities and provide the same or different resources in order to increase the provision and progress of the children. We are also planning to improve playground activities with providing some static fitness equipment.
The Sutton Benger and Oaksey Year 3 and 4 children preparing for their cross country running competition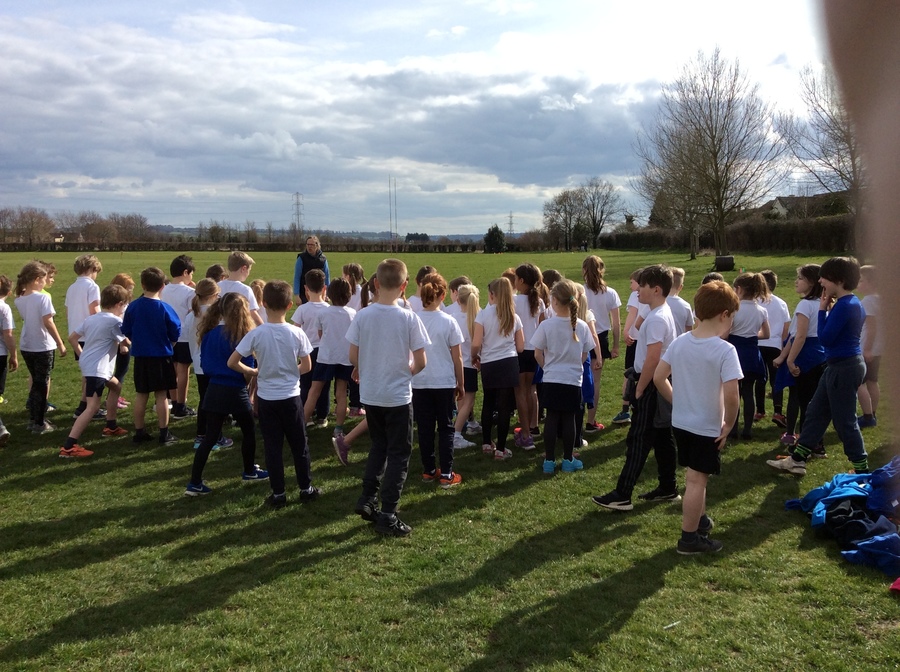 Sutton Benger, Oaksey and Luckington School children taking part in the Nordic Walking Competition at Oaksey
Hindu Story telling and dance workshop for
Year 3, 4 and 5 children